There are a lot of forms involved in filing taxes, so make sure you have everything you need before preparing your tax returns in California:
Gather any documents related to income earned throughout 2022.
Gather forms supporting available deductions or tax credits related to healthcare, childcare, education, and job expenses.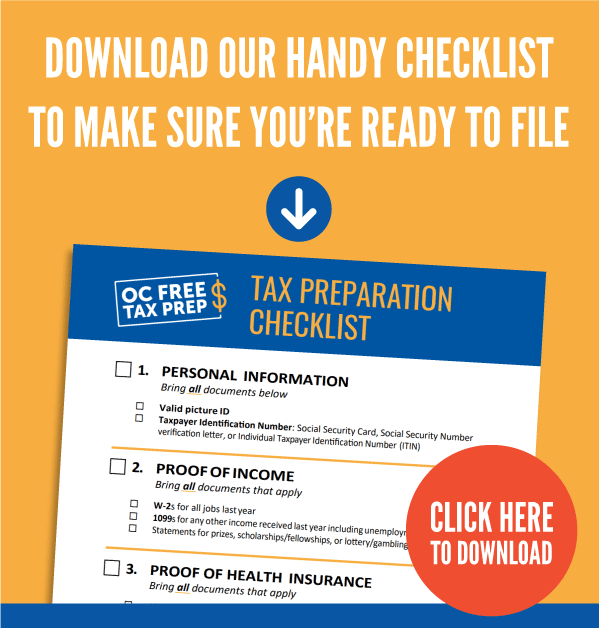 It is never too early to start gathering your tax documents!
You can
download
our handy checklist to make sure you're fully prepared to file. The documents can be used for both your federal and California state return.
It is never too early to start gathering your tax documents! The documents can be used for both your federal and California state return.
Your social security number or Individual Taxpayer Identification Number (ITIN), as well as those of anyone you may be claiming on your tax return, including your spouse if you are filing jointly.
Photo identification.
W-2 forms from any employers you worked for in 2022.
1099 forms for any contract work you completed if you earned more than $600 total.
Income from unemployment or social security benefits.
Income from the previous year's state and local tax returns.
Income from any rental properties you may own.
Income Adjustment, Credit, and Deduction Documents
Receipts from charitable donations.



Receipts from moving expenses for active military.
Receipts from job search expenses.
Records related to loss of property or insurance claims from a federally declared disaster.
Bank account and routing number if you want your refund direct deposited.
慈善捐款的收据。

现役军人的搬家费收据。找工作的费用收据。

与联邦宣布的灾害造成的财产损失或保险索赔有关的记录。

如果你想让你的退税直接存入银行,请提供银行账号和路线号码。
Contributions to a Medical Savings Account (MSA).
Contributions to an IRA.
Interest from investments, stocks, or other property.
Costs related to childcare (including the provider's tax ID number) or adoption.
Costs related to education (1098-T and 1098-E).
Costs related to homeownership (1098s for mortgage interest, property tax, energy-saving improvements, or other expenses).
Costs related to medical care from doctors, hospitals, or other providers.
Form 1095-A for health insurance through the Marketplace Exchange, or 1095-B or -C for health insurance through another source.
Get Help Filing Your Return
If the thought of preparing and filing your taxes makes your head spin, have no fear – there is help available through
OC FREE TAX PREP
. Orange County United Way has joined forces with the IRS, and a coalition of local partners to support Orange County residents during tax season. This year, OC Free Tax Prep will continue to provide its free tax preparation service with in-person and online options:
You can now get money-saving tax tips from Orange County United Way's OC Free Tax Prep sent directly to your mobile device by texting
MONEYBACK
to
50503
and all for free! Learn more about the program
here
. With tax season upon us once more, Orange County residents are seeking ways to get their returns completed
efficiently
while also keeping as much of their hard-earned money as they can. OC Free Tax Prep is here to help. Starting now, you can get some amazing money-saving tax tips simply by sending us a text message!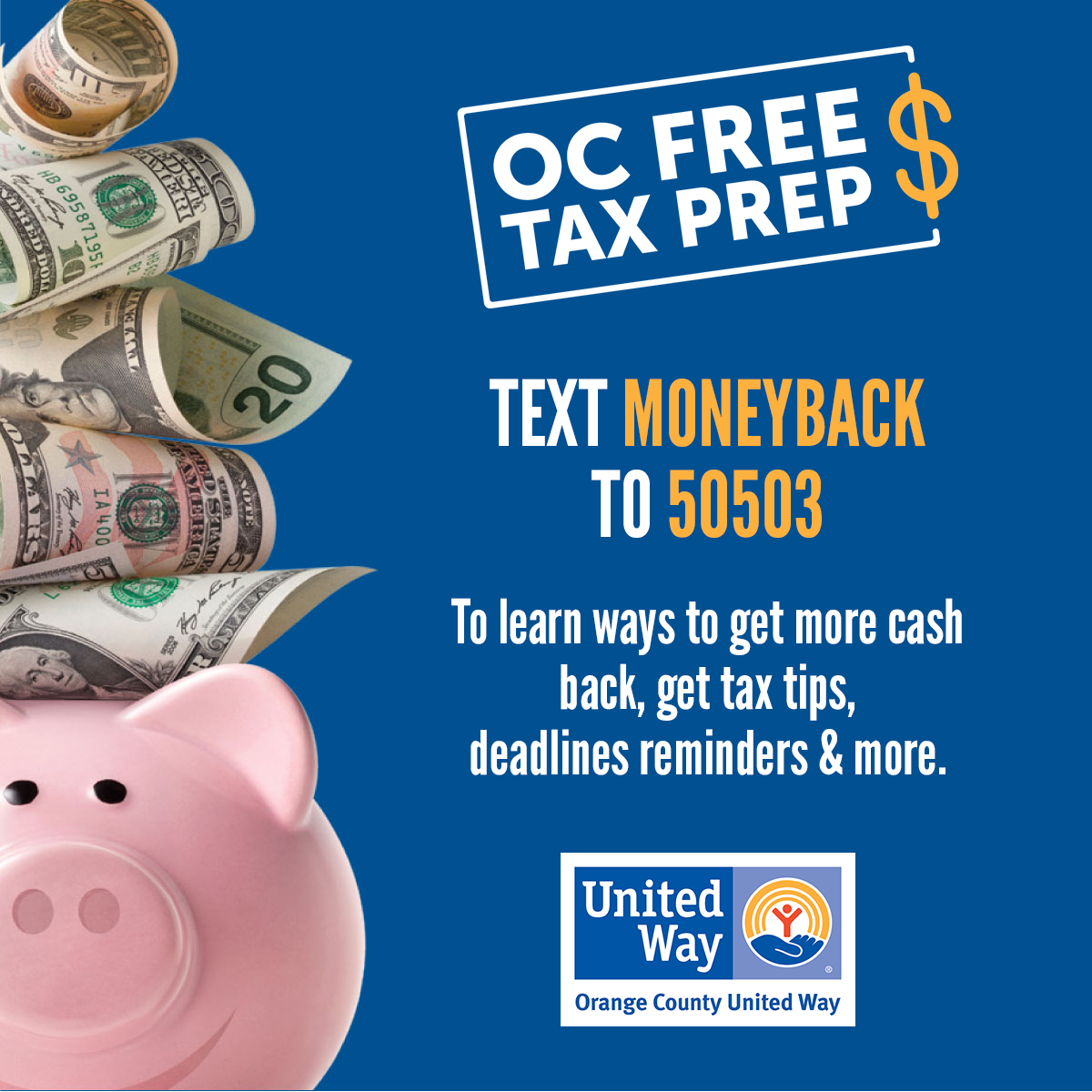 Here's all you have to do: text
MONEYBACK
to
50503
today. That's all there is to it! From there, we'll send you helpful tax tips, reminders about key deadlines, and links to some other free resources from OC Free Tax Prep. Brought to you by the Orange County United Way, OC Free Tax Prep can help you:
File your taxes for FREE! In-person assistance is available at various locations throughout Orange County.
Learn more about programs like EITC, which can put more money in your pocket!
Ensure that you're not leaving money on the table or paying more than you need to.
The bottom line: We're here to make tax season easy on Orange County individuals and families, something we do through free tax education, tax tips, tax prep services, and more. And it's never been easier to access these benefits; just send us a TEXT and you'll be on your way! Again, text
MONEYBACK
to
50503
today for FREE tax tips from OC Free Tax Prep!
Msg & data rates may apply. Text STOP to end. Text HELP for help. Expected approx. 1 msg/week. Call 866.976.7999 or visit this page for help & info.